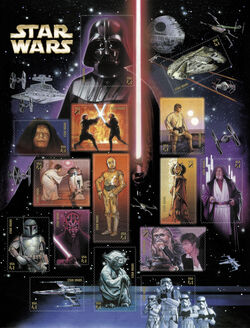 The Star Wars stamp series was a set released by the United States Postal Service (USPS) on May 25, 2007 for the 30th anniversary of Star Wars. The series is planned to continue until May 25, 2008. Included are Darth Vader, Palpatine, Stormtrooper, C-3PO, R2-D2 and Princess Leia, Han Solo and Chewbacca, Anakin Skywalker and Obi-Wan Kenobi, Padmé Amidala, Darth Maul, Boba Fett, Yoda, the Millennium Falcon, and an X-Wing. Included in the artwork but not on individual stamps are a Star Destroyer, the second Death Star, Vader's TIE Advanced x1, and several TIE fighters.
From October 25, 2007 through October 25, 2008, the USPS will release a 20-stamp sheet of 41-cent Yoda stamps. Yoda was chosen to be featured on the stamp through a contest held by the USPS.
Stamp gallery
Ad blocker interference detected!
Wikia is a free-to-use site that makes money from advertising. We have a modified experience for viewers using ad blockers

Wikia is not accessible if you've made further modifications. Remove the custom ad blocker rule(s) and the page will load as expected.