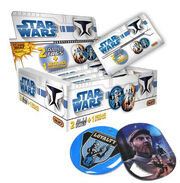 Star Wars: Alu Tags is a collection of The Clone Wars themed metal tags from E-Max released in 2008.
In every blister packet there is two metal tags and either a necklace or a braclet to attach the tags to. There are 100 different tags to collect. The first 50 are shaped like Dog Tags and the last 50 are circular. Each tag within a blister is random and will not always be paired with the same second tag. Each tag features a tag number on the back aswell as the Star Wars logo.
Characters on the tags include;
C-3PO
Commander Cody
General Grevious
Obi-Wan Kenobi
R2-D2
Captain Rex
Anakin Skywalker
Ahsoka Tano
Asajj Ventress
Yoda
Ad blocker interference detected!
Wikia is a free-to-use site that makes money from advertising. We have a modified experience for viewers using ad blockers

Wikia is not accessible if you've made further modifications. Remove the custom ad blocker rule(s) and the page will load as expected.